Facilities for Villas 1 & 2 (All inclusive)
Both villas have the following facilities:
Private swimming pools: Villa 1: 33 sqm, Villa 2: 27 sqm (1.5m deep)
Three air-conditioned and fan cooled bedrooms
Fully staffed, including cook and housekeeper
Safety deposit box in each Villa
Free Wi-Fi
Back-up generator for power cuts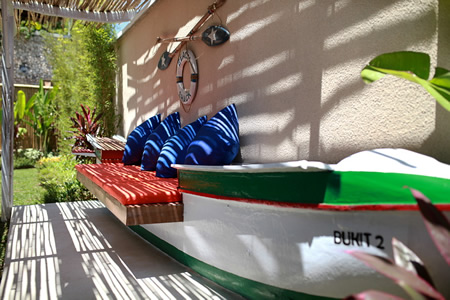 SERVICES
Villa Bukit has a team of dedicated staff, drawn from the local community. They can plan and prepare all meals at your request, including Indonesian and Western food, as detailed in our in-house menu.
Breakfasts are not included in the daily rate but for a small cost a delicious Indonesian or American breakfast can be made for you.
Villa Bukit staff are also happy to make a reservation for you at any of Nusa Lembongan's local restaurants. All fresh produce is transported from the mainland, so prior notice is essential; also an additional levy of 16% (service and government tax) will be added to all food and drinks.
Children
The Balinese adore children and Villa Bukit promotes a fun family atmosphere. However, due to the configuration of the villa, such as the steep loft staircase and the proximity of the pool to the lounge-room, we feel the villa is more suited to children 8 years and over. Please inform the staff if your children cannot swim, as the depth of pool is 1.8metres. If you require supervision for your children, please speak to Villa Bukit staff.
Transport
Most of our guests arrange their transfers through their travel agent at the time of booking. We recommend Rocky's Fast Boat Cruises who will transport you from your hotel in the Kuta, Legian, Nusa Dua & Sanur areas and then across the Badung Strait to Nusa Lembongan (a 25 minute boat trip).
Getting to the Island
Rocky Fast Boat Cruises depart for Nusa Lembongan from Sanur Beach at 10am, 12 noon, 2pm and 4.30 pm daily. They will collect you from your hotel on the mainland, 1.5 hours prior to your departure time. When you arrive on Nusa Lembongan, our friendly staff will be there to greet you and transfer you to Villa Bukit.
When departing Villa Bukit, Rocky Fast Boat Cruises will transfer you from the villa to the Nusa Lembongan beach 30 minutes prior to boat departure. Departures times are 9am, 11am, 1pm and 3.30pm daily.
VILLA TRANSPORT
Villa Bukit can organise bemo transport to and from the villa as well as hiring of mopeds, etc (at your own risk).
A lot of local restaurants will pick up and top off for free. Golf buggies can also be hired from the Village.
Island tours are available on request (additional charges apply).